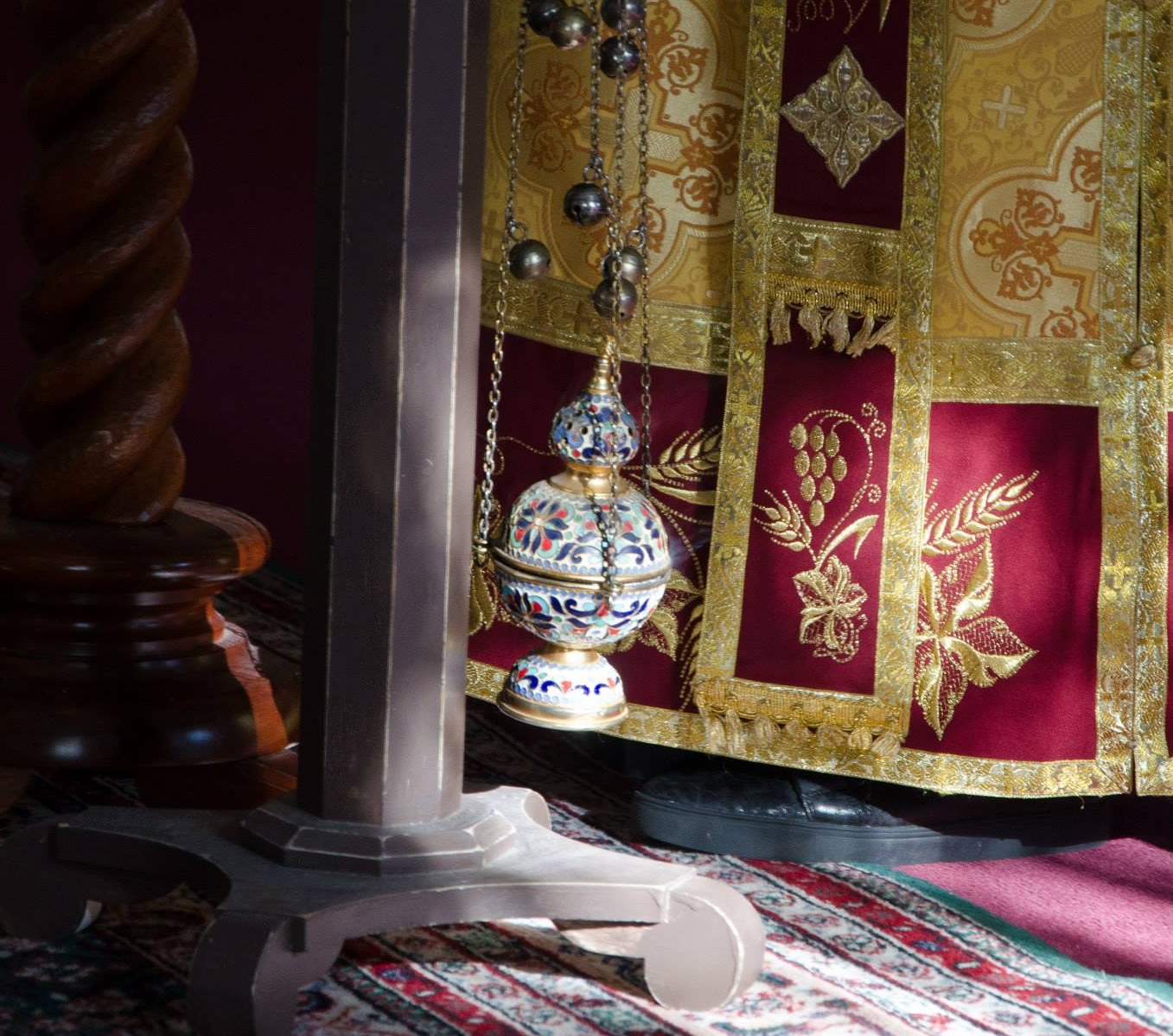 MORNING & EVENING PRAYERS
Let my prayer arise as incense...
MORNING PRAYERS
to the holy trinity:
having arisen from sleep, we fall down before thee, o blessed one, and sing to thee, o mighty one, the angelic hymn: holy! holy! holy! art thou, o god; through the theotokos, have mercy on us.
glory to the father, and to the son, and to the holy spirit.
do thou, o lord, who hast raised me from my bed and from sleep, enlighten my mind and heart, and open my lips that i may praise thee, o holy trinity: holy! holy! holy! art thou, o god; through the theotokos, have mercy on us.
now and ever and unto ages of ages. amen.
the judge will come suddenly and the acts of every man will be revealed; but with fear we cry in the middle of the night: holy! holy! holy! art thou, o god; through the theotokos, have mercy on us.
psalm 120 [121]:
i will lift, up my eyes to the hills. from where comes my help? my help comes from the lord, who made heaven and earth. he will not allow your foot to be moved; he who keeps you will not slumber. behold, he who watches over israel shall neither slumber nor sleep. the lord shall protect you; the lord is your shelter at your right hand. the sun shall not burn you by day, nor the moon by night. the lord shall preserve you from all evil; the lord shall preserve your soul. the lord shall preserve your going out and your coming in from this time forth, and forevermore.
psalm 50 [51]:
Have mercy on me, O God, according to Thy great mercy; and according to the multitude of Thy compassions blot out my transgression. Wash me thoroughly from mine iniquity, and cleanse me from my sin. For I know mine iniquity, and my sin is ever before me. Against Thee only have I sinned and done this evil before Thee, that Thou mightest be justified in Thy words, and prevail when Thou art judged.
For behold, I was conceived in iniquities, and in sins did my mother bear me. For behold, Thou hast loved truth; the hidden and secret things of Thy wisdom hast Thou made manifest unto me. Thou shalt sprinkle me with hyssop, and I shall be made clean; Thou shalt wash me, and I shall be made whiter than snow. Thou shalt make me to hear joy and gladness; the bones that be humbled, they shall rejoice. Turn Thy face away from my sins, and blot out all mine iniquities. Create in me a clean heart, O God, and renew a right spirit within me. Cast me not away from Thy presence, and take not Thy Holy Spirit from me. Restore unto me the joy of Thy salvation, and with Thy governing Spirit establish me.
I shall teach transgressors Thy ways, and the ungodly shall turn back unto Thee. Deliver me from blood-guiltiness, O God, Thou God of my salvation; my tongue shall rejoice in Thy righteousness. O Lord, Thou shalt open my lips, and my mouth shall declare Thy praise. For if Thou hadst desired sacrifice, I had given it; with whole-burnt offerings Thou shalt not be pleased. A sacrifice unto God is a broken spirit; a heart that is broken and humbled God will not despise.
Do good, O Lord, in Thy good pleasure unto Sion, and let the walls of Jerusalem be builded. Then shalt Thou be pleased with a sacrifice of righteousness, with oblation and whole-burnt offerings. Then shall they offer bullocks upon Thine altar.
a prayer of thanksgiving
as i rise from sleep, i thank you, holy trinity, for because of your great good­ness and patience, you were not angry with me, an idler and sinner, nor have you de­stroyed me in my sins, but have shown your usual love for me. and when i was prostrate in despair, you raised me to glorify with your power. enlighten now my mind's eye, open my mouth to study your words and under­stand your commandments, to do your will and sing to you in heartfelt adoration, and praise your most holy name, of the father and the son and the holy spirit, now and forever and to the ages of ages. amen.
to the guardian angel:
o holy angel, keeping guard over my wretched soul and my passionate life, do not forsake me, a sinner, nor depart from me because of my incontinence. do not give the evil enemy room to overcome me by force of this mortal body. strengthen my weak and feeble hand, and set me on the way of salvation. yea, o holy angel of god, guardian and protector of my wretched soul and body, forgive me everything by which i have offended you all the days of my life, and even what i have done this past night; protect me during this day, and guard me from every temptation of the enemy, that i may not anger god by any sin. pray to the lord for me, that he may confirm me in his fear and prove me a worthy servant of his goodness. amen.
virgin theotokos:
theotokos virgin, hail most blessed mary, the lord is with you. blessed are you among women, and blessed is the fruit of your womb, for you have given birth to the savior of our souls.
to one's patron saint:
pray to god for me, o saint _____________ well-pleasing to god. i fervently entreat you who are the sure help and intercessor for my soul.
prayer for the beginning of the day:
st. philaret of moscow
o lord, grant me to greet the coming day in peace, help me in all things to rely upon your holy will. in every hour of the day reveal your will to me. bless my dealings with all who surround me. teach me to treat all that comes to me throughout the day with peace of soul and with firm conviction that your will governs all. in all my deeds and words, guide my thoughts and feelings. in unforeseen events, let me not forget that all are sent by you. teach me to act firmly and wisely, without embittering and embarrassing others. give me strength to bear the fatigue of the coming day with all that it shall bring. direct my will, teach me to pray. and you, yourself, pray in me. amen.
EVENING PRAYERS
have mercy on us, o lord, have mercy on us; for laying aside all excuse, we sinners offer to thee, as to our master, this supplication: have mercy on us.
glory to the father, and to the son, and to the holy spirit.
o lord, have mercy on us, for in thee have we put our trust. do not be angry with us, nor remember our iniquities, but look down on us even now, since thou art compassionate, and deliver us from our enemies. for thou art our god, and we are thy people; we are all the work of thy hands, and we call on thy name.
now and ever and unto ages of ages. amen.
o blessed theotokos, open the doors of compassion to us whose hope is in you, that we may not perish but be delivered from adversity through you, who are the salvation of the christian people.
to the father:
o eternal god, king of every creature, who hast enabled me to attain to this hour, forgive me the sins which i have committed this day by thought, word and deed. cleanse my humble soul, o lord, from every defilement of flesh and spirit. grant me, o lord, to pass through the sleep of this night in peace, that i may rise from my humble bed and please thy most holy name all the days of my life, vanquishing the enemies both fleshly and bodiless that contend against me. deliver me from vain thoughts that defile me, o lord, and from evil desires. for thine is the kingdom, and the power, and the glory: of the father, and of the son, and of the holy spirit, now and ever and unto ages of ages. amen.
to jesus christ:
o almighty word of the father, jesus christ, who art thyself perfect: because of thy great mercy, do not ever depart from me, thy servant, but always abide in me. o jesus, good shepherd of thy sheep, let me not fall into the disobedience of the serpent, nor leave me to the will of satan, for the seeds of corruption are in me. o lord god adorable, o holy king jesus, guard me while i sleep with the unfading light, thy holy spirit, through whom thou didst sanctify thy disciples. grant even to me, thy unworthy servant, o lord, thy salvation upon my bed. enlighten my mind with the light of the understanding of thy gospel; my soul with love of thy cross; my heart with the purity of thy word; my body with thy passionless passion; preserve my thought in thy humility, and raise me at the time proper for thy glorification. for thou art most glorified with thy father, who is without beginning, and thy most holy spirit, unto the ages. amen.
to the holy spirit:
o lord, heavenly king, comforter, the spirit of truth, be compassionate and have mercy on me, thy sinful servant. remit and forgive me, the unworthy one, all the things which i have sinned as a man (and even as a beast), both voluntary and involuntary, in knowledge and in ignorance: from my youth, from learning of evil, and from emptiness or despair. if i swore with thy name, or stained it in my reasoning; or dishonored someone; or cursed someone with my anger; or saddened him; or if i have become angry over something; or lied; or slept unfittingly; or if a poor man came to me and i despised him; or if i saddened my brother; or frustrated or judged someone; or became puffed up and proud; or if while standing in prayer my mind was moved by the evil of this world; or contemplated suicide; or overate and overdrank, or laughed without reason; or thought of evil; or if i saw another 's good and was bound by it in my heart; or spoke unseemingly; or laughed at my brother's sin; my sins are countless in number. if i have forsaken prayer, or done anything evil - i do not remember, for i have committed even more! have mercy on me, o master my creator, thy unworthy and unprofitable servant. forgive, remit, and loose my sins, for thou art gracious and lovest mankind; that i may rest in peace and sleep, though a prodigal, sinful and wretched; that i may adore and praise and glorify thy most honorable name, together with the father and his only-begotten son, now and ever and unto ages of ages. amen.
to the virgin theotokos:
rejoice! o virgin theotokos! mary, full of grace, the lord is with you. blessed are you among women, and blessed is the fruit of your womb, for you have born the savior of our souls!
o victorious leader of triumphant host! we, your servants, delivered from evil, sing our grateful thanks to you, o theotokos! as you possess invincible might set us free from every calamity so that we may sing: rejoice! o unwedded bride!